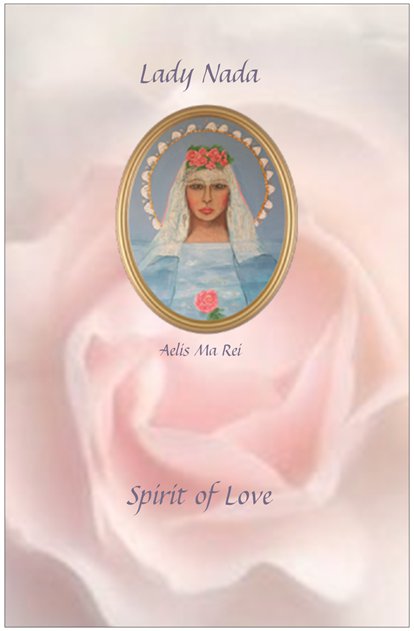 "That which God said to the rose, and caused it to laugh in full-blown beauty, He said to my heart, and made it a hundred times more beautiful." – Rumi
Lady Nada is as ascended master especially known for her love and service and shows us the way to selfless love. She leads us on this path of transformation through the healing effects of the different colored roses with the associated properties. As "The queen of the chohans" her task is, divine justice for the downtrodden and oppressed, peace, ministration and service. As an initiate master she teaches the unfolding of the rose of the heart, helping us to develop the sensitivity of the heart.
 "I am my brother's keeper."
The ascended master Lady Nada is the chohan of the sixth ray (purple and gold ray) and serves also the third ray (pink ray) of divine love.
Traditionally, the rose is renowned for its beauty and fragrance. The colors of the roses at Lady Nada refer to various spiritual development areas. So the red roses symbolize love and helping the oppressed, yellow roses light and healing, blue roses justice and truth and purple roses transformation.
The pink rose has a very special place. It refers to selfless and Universal Love.
The Chohan who guide this Pink ray are Archangel Chamuel and Master Paolo  the Veronese (1528 – 1588). Paolo Veronese Chohan van de 3e Straal
(roze)
Paolo Veronese / Paolo Caliari (1528 – 1588) – artist in Italy, connected with the third, pink ray of selfless and Universal Love.
Music:  Ave Maria,  Gregorgian: Maid of Orléans
Newsletter: September 2013 (Dutch)
THE TURQUOISE FLAME – LADY NADA –
The turquoise flame is also connected with Lady Nada and the Atlantic Lightwork. It brings you to a deeper level of Self-Love and brings also finally by this way the Light to Earth.
The third, pink ray of selfless and Universal Love:
Maria, Clara van Assisi, Theresa van Avila, Therese of Lisieux, Hildegard von Bingen, Paolo Veronese (1528 – 1588), artist from Italy, Jeanne d'Arc (1412 – 1431), Virgin of Orléans, Bernadette Sourbirous (1844 – 1879), the holy Bernadette of Lourdes and Sint Elisabeth as patron of charities, hospitals, beggars, orphans, widows and widowers.
Authorized to guide / initiate and certify you. 
As Accredited Alternative Therapist associated with CAT Collective Alternative Therapists.
This page is also available in Dutch.