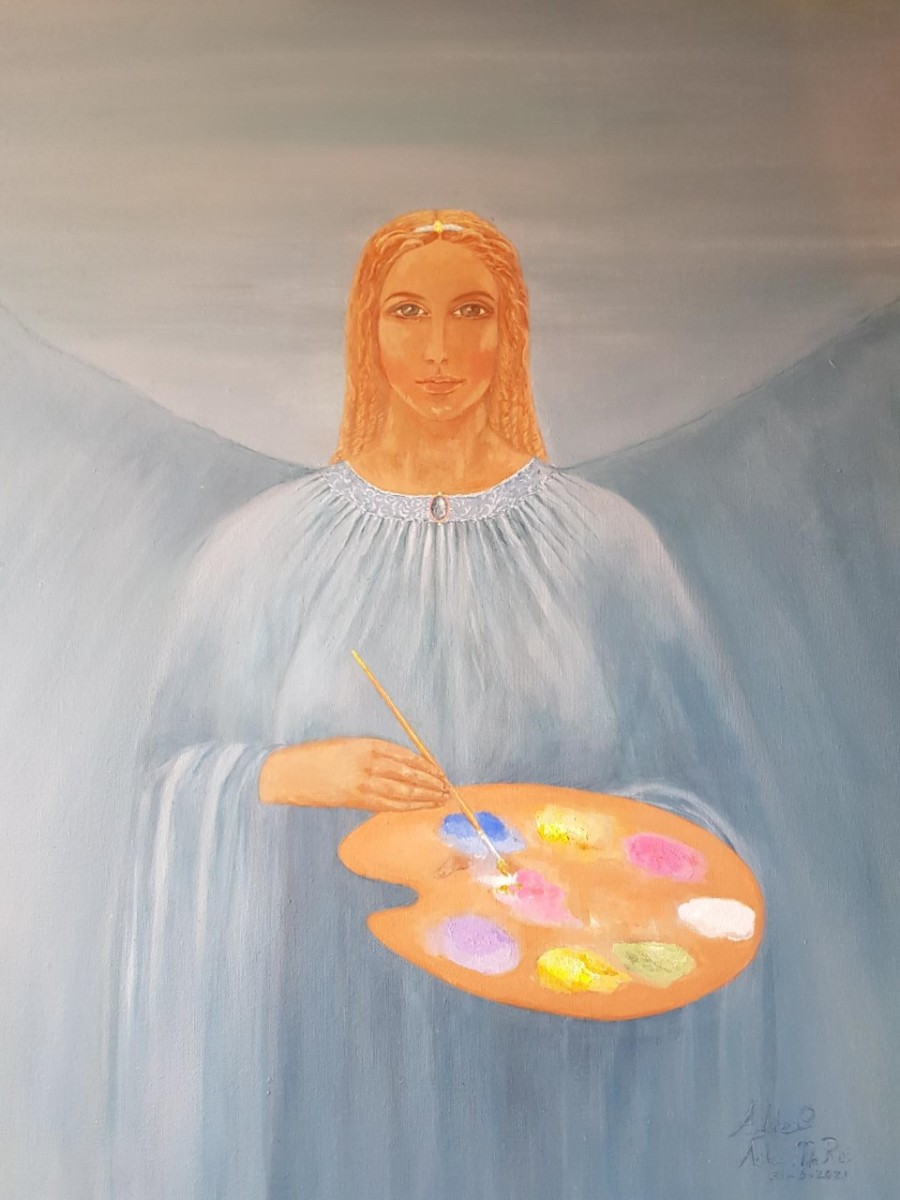 Archangel Gabriel "Strenght of God".

(Acryl on canvas, 90/70 – 21-6-2021)
~
" It is your winged message of heavenly purity that inspires,

To create inner visions with a renewed horizon,

While the brush moves silently across the canvas.

It is your winged message of celestial purity that inspires,

to entrust the heavenly blue in purity to the white linen.

Peace and purity are intensely illuminated by the ether as diffuse forms,

To create inner visions with a renewed horizon.

It is your winged message of heavenly purity that inspires."

(from own work)
~
An Archangel Gabriel Reading~Healing is about Divine guidance to bring Inner Peace and Purity.
4.ARCHANGEL GABRIEL
Archangel Gabriel is the fourth Archangel, who serves the white ray. This is the ray of harmony by inner peace and purity.
Newsletter
January 12th 2021
Divine guidance for connection in difficult times by Archangel Gabriël

~ God is my Strength ~
The special tasks of Archangel Gabriel are:
To serve humanity as a powerful messenger and helper of God.
Especially as a transition Angel in difficult times he can help you, when you listen and allow him, to stay in touch or to reconnect with the Divine world of Light and Love.
Feelings of hopelessness for example, can be transformed into relief.
You can ask for Strength to focus on what is important to you, while accepting and letting go of illusions  in this upcoming time period.
When you look deep inside you can pay attention to feelings of for example vulnerability, because they also can lead to a beautiful journey of the heart.
Archangel Gabriel can profide clarity and give comfort in situations of trauma or confusion. His energy is powerful, uplifting, brings inner peace while helping you to connect with the healing energy of the Divine Source.
10the Newsletter:  October 26 2016
Archangel Gabriel serves artists with their creative expressions by imaging their visions."
Painting proves to be a powerful tool for showing a glimpse of the invisible divine world by revealing the deeper spiritual meaning of the use of symbols and colors.
While staying close by your intuition and your deeper Self during the creative process it is possible, despite the duality and division of our present existence, to focus on Oneness and to experience Inner Peace of the Infinite source of Light.
When we ask for it, there is a spiritual elevation by a purifying and blossoming contact with the Angelic realms of the source of Light and Love.
Message:
*Archangel Gabriel will guide us always to move forward by recognizing our talents and gifts, so we can rise up to be the key player of our own life and joining new horizons.
*Archangel Gabriel, as the messenger of Purity, Truth and Harmony, will guide and protect the process of visualization and the creative expressions of visions. With his powerful Angelic energy he illuminates the truth of the soul and assist to reach Higher purpose.
The color blue symbolizes harmonizing and healing the throat chakra, the expression of honesty by communication, spiritual consciousness and spiritual friendship.
ARCHANGEL GABRIEL READING
This page is also available in
Nederlands.