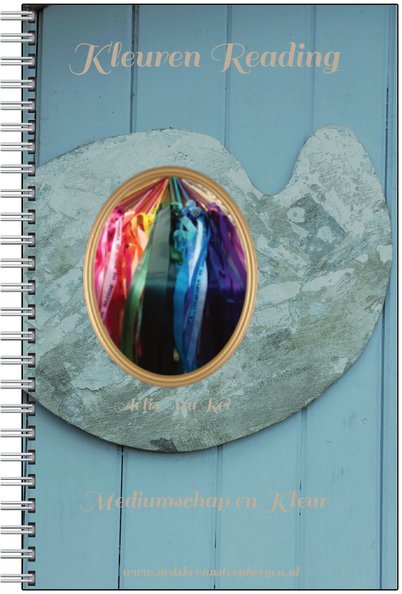 "Experience shows that the individual colors evoke special effort of mind" Johann Wolfgang von Goethe.
Of colour it is known they have a certain degree of oscillation. These vibrations affect how subtle, our human body our emotions. The importance of colour was in many ancient cultures recognized such as by the Maori, Maya North American Indians. In India, China and Egypt, we found in manuscripts that the priests who were engaged in medicine, they possessed a complete system of colour science. In Karnak Thebes there were special colour halls for healing. In Buddhist traditions colours are used in mandalas and meditation colours. The development of colour therapy as we know it, has its origins in New Zealand with doctor dr.Liley. Early last century, he came into contact with the Maori's and studied their use of colour. In the colour theory of the Maori's electromagnetic radiation is assumed. This theory was later further developed by mr. Brooker and made applicable for the west. Here in the West, Rudolf Steiner and Goethe are in their own way, have been major researchers in the field of operation of colour. In the early 19th century Johann Wolfgang von Goethe wrote his extensive work on the theory of colours, which paved the way for the work of many modern esoteric teachers and philosophers who are interested in colour. Vicky Wall (1918 – 1991) founder of Aura Soma Therapy has meant a lot for today's Colour Therapy. "You're the color you choose these reflect your deepest need" Vicky Wall. She was the seventh child of a seventh child of a Jewish family. She grew up in kabbalistic tradition and was a clairvoyant since her childhood. She discovered the healing effects of colour combinations on body, mind and soul. She saw in the aura's that different colours had therapeutic effects. So Aura Soma therapy arose were clients can choose which colour he or she most needs at that moment. We are working on healing this way.
Colour therapy brings body, mind and spirit into balance. The basis of this is the energy system of the body. During a colour therapy healing  the given colour will be sent to the energetic and physical body through visualization to influence it positively. This therapy can be applied to both physical and mental symptoms and can disappear emotional stress. Colour therapy is a complementary therapy and can be combined well with other forms of therapy.
Colour Therapy helps realize that there is consciously or unconsciously a need for certain colours and lets experience that these colours for healing, health, relaxation, inspiration and protection to use. Colour therapy is looking for deeper cause and examines the emotional and mental state. It's like the Bach therapy a complementary therapy.
"Leonardo da Vinci, the famous painter, sculptor, engineer, physician, anatomist and inventor, one of the greatest researchers of color science, assured that our ability to meditate can be increased tenfold by meditating under the glow of violet light, that radiates us through the stained glass of a silent church. "
Colour Therapy helps people realize that they need a specific colour, and teaches them to use these colours, for healing, health, relaxation, inspiration and protection. Techniques such as meditation and visualization are closely associated with colour therapy and can then be deployed. Colour therapy is a sophisticated, external therapy, using the healing energy, trapped in the visible, coloured rays of light. Colour therapy will bring a balanced amount colour energy for the recovery of harmony and balance between body, mind and soul. Only when this balance is present, can be sought to good health. Colour therapy is a complementary therapy that may well be combined with other types of therapy. Colour therapy encourages to take responsibility for our own lives and to use the healing power in yourself.
As a colour therapist I also give information about what colours for you to have a positive effect on:
Lecturer visual arts.
Qualified Colour Therapist.
Master in 7 Colours of Angels and Lady Nada's Roses Healing Energy.
Following from out anthroposophy the Atelier for Art therapy.
Education at the Arthur Findlay College in Stansted a specialization training Mediumship and Colour at Thelma Francis (medium and CSNU Tutor).
As A

ccredited Alternative Therapist

associated with CAT Collective Alternative Therapists.
This page is also available in
Nederlands.