Bernadette Soubirous, Pastel drawing ~2018
"Love without suffering does not exist ". Bernadette
Bernadette Soubirous from Lourdes 1844 – 1879
Bernadette was born in France. She was a sickly child and lived in extreme poverty. On 11 February 1858, Bernadette, then aged 14, was out gathering firewood with her sister Marie and a friend near the grotto of Massabielle in the Pyrenees, when she experienced her first vision. While the other girls crossed the little stream in front of the grotto and walked on, Bernadette stayed behind, looking for a place to cross where she wouldn't get her stockings wet. She finally sat down to take her shoes off in order to cross the water and was lowering her stocking when
She heard the sound of rushing wind, but nothing moved. A wild rose in a natural niche in the grotto, however, did move. From the niche, or rather the dark alcove behind it,

"came a dazzling light and a white figure."
It was the first of 18 visions of what she referred to as
"Aquero, for that"
In later testimony, she called it
"A small young lady"
and described the small young lady as wearing a white veil, a blue girdle and with a yellow~golden rose on each foot.
Bernadette returned to the grotto and knelt down immediately, saying she saw
   " Aquero"
again and falling into a trance.
On her next visit, she said that:
" The vision" asked her to return to the grotto every day for a fortnight."
This period of almost daily visions came to be known as:
" Holy fortnight." 
Initially, her parents, especially her mother, were embarrassed and tried to forbid her to go. The supposed apparition did not identify herself until the seventeenth vision, the woman who appeared identified herself to her as the
Bernadettes story caused a sensation with the townspeople, who were divided in their opinions on whether or not she was telling the truth. Some believed her to have a mental illness and demanded she be put in an asylum. 
One time, the vision tells her to drink from the source, but Bernadette saw no source at all. That's why she digs a hole in the ground. She has to dig deeper and then some muddy water comes up. The vision had also told her "to drink of the water of the spring, to wash in it and to eat the herb that grew there," as an act of penance. The people watched her curious, while some of them made her ridiculous. To everyone's surprise, the next day the grotto was no longer muddy but clear water flowed.
Bernadette said that it was Faith and Prayer that cured the sick:
" One must have faith and pray; the water will have no virtue without faith."
Later, although the townspeople believed she was telling the truth assumed she saw the Virgin Mary, Bernadette never claimed it to be Mary, consistently using the word 
" Aquero "
Bernadette told her family that the lady said that,
" A chapel should be built and a procession formed. "
One day, asked about the apparitions, she replied:
" The Virgin used me as a broom to remove the dust. When the work is done, the broom is put behind the door again. "
Later she joined the Sisters of Charity at their motherhouse at Nevers and her contemporaries admired her humility and spirit of sacrifice. The Mother Superior gave her the name Sister Marie-Bernarde. Within the monastery walls, however, she was not allowed to speak at all about what had happened in Lourdes and she was at peace with this, because she was averse to all that publicity and liked to withdraw. In that monastery she leaded a quiet life and prayed a lot. There she dies when she was 35 years old and on her deathbed she had her latest vision. Since her death Bernadette's body has apparently remained internally incorrupt.
However, despite being rigorously interviewed by officials of both, the Catholic Church and the French government, she stuck consistently till the end of her life to her story. In the meanwhile Miracles happened and eventually Bernadette's claims were declared "worthy of belief" after a canonical investigation and the apparation of Mary became known as
" the Lady of Lourdes "
On 8 December 1933, Pope Pius XI declared Bernadette a saint of the Catholic Church. Her feast day, initially specified as 18 February, the day Mary promised to make her happy,
" not in this life, but in the next "
is now observed in most places on the date of her death, 16 April.
Bernadette Soubirous is a symbol of modesty and simplicity. She is the patronage of illness, Lourdes, against poverty and people ridiculed for their faith. 
Bernadette belongs to the third, pink ray of selfless and Universal Love.
From a personal experience with Lourdes
" While painting I receive messages from the Divine world"

The content of this is usually revealed after a longer period of time".
This was already predicted when I was young.
 

Mediumistic Painting of Mother Mary
It was in 2016 that I finished my painting
" Madonna "
with the title
" Letting Go "
Symbolised by a little white butterfly.
The meaning of my painting entitled
was revealed during my first stay in Lourdes in August 2017.
" The Divine Source will always approach you full of Love and speak to you in a language you will understand."
First stay in Lourdes~August 2017
While focussing in the evening in procession on Mother Mary, I suddenly received the message that my beloved mother had started her great transition. I left Lourdes head over heels with the water from the source and had her to
" Letting Go "

 

I felt a very strong guidance from the Divine World, while there was such a strong sense of unity, connection, involvement and synchronicity with both at the same time. 

 
The message from Bernadette:
" Mary promised to make her happy, not in this life, but in the next."
has acquired a very special meaning.
Mother Mary, as the Queen of the Angelic world, came at a symbolic, synchronous way so close on a very intimate and sacred moment.
It became my personal "Miracle" and "proof" from a mystical Lourdes. There is still and always will be an amazing strong guidance and transforming Love energy sent to us by the Divine world. I feel even more a neverending love and deep connection with the Divine that is: 
" FULL OF LOVE ACROSS RELIGIEUS BOUNDERIES"
Second stay ~ Lourdes, September 7-14 2019
Guided by my inner voice I returned 2 years later to Lourdes and felt the same powerfull Love energy. This energy deepened still more my connection with the Divine World of Universal Love, initiated by my beloved Bernadette from the Source. It became a life changing transformation and I agree with Bernadette that this place is a:
"Heaven on Earth"
I am very grateful to have received this special transforming Divine Love energy of Mother Mary, that brings so many people together in Harmony, Hope, Acceptance, Healing from body and spirit, Union with the Divine, Equality, Prayer, Trust, Silence and Comfort. Mercy and care for everyone, inparticular those who fall outside of society are accepted without distinction. I will cherish this pure and loving energy forever and keep her energy as a precious gift in my heart.

 

SEEN BY THE DIVINE WORLD

THE DIVINE REVEALED AS A HIGHER POWER IN YOURSELF

TRUST

FAITH

PRAY

BEING WHO YOU ARE

HUMILITY

SPIRIT OF SACRIFICE

SIMPLICITY

MODESTY

UNIVERSAL DIVINE LOVE AND COMPASSION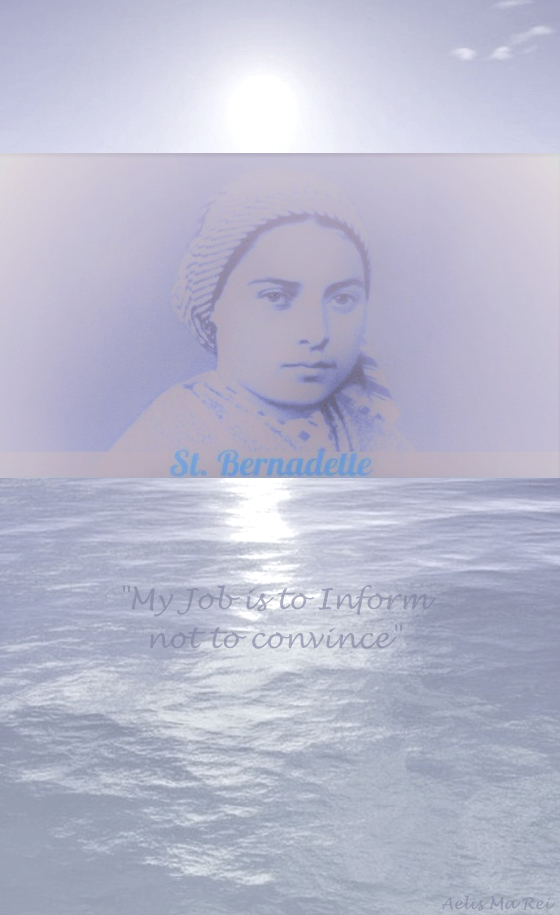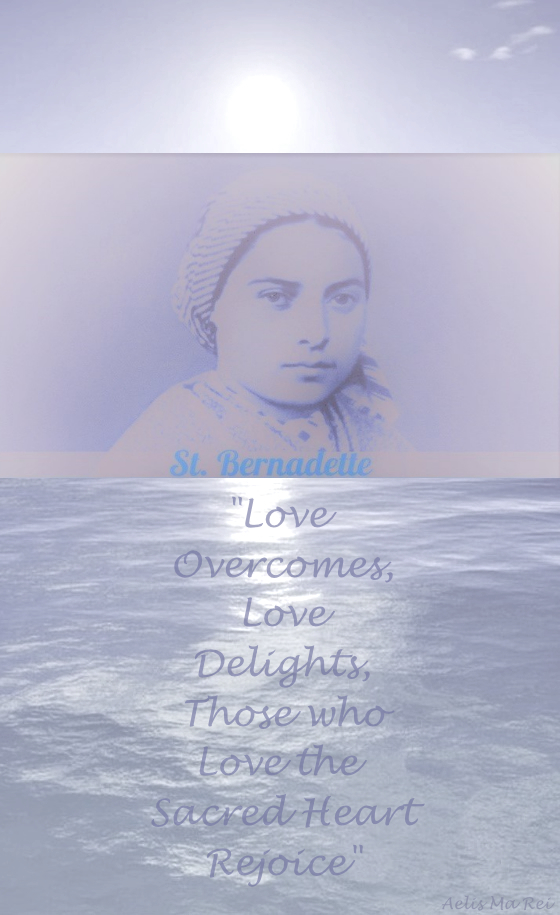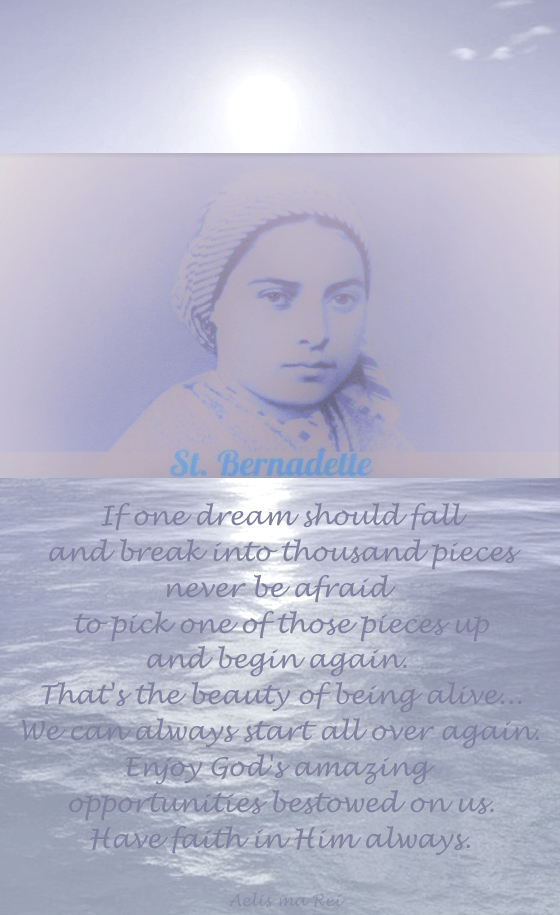 Franz Werfel: Das Lied von Bernadette
The Jewish Franz Werfel and his wife Alma Mahler narrowly escaped the Nazi regime by finding shelter for five weeks in the little town of Lourdes in the foothills of the Pyrenees. A number of families took turns in giving them shelter and told the Werfels the story of Bernadette. Franz Werfel vowed, that, if he and his wife escaped, he would put off all tasks and write Bernadette's story into a novel. Safe in America, he published The Song of Bernadette.
Letters written by Bernadette and send to her family and clergy.
Patrick Chatelion Counet: Brieven van Bernadette, uit Lourdes en Nevers. Uitg. KBS, geïll. 198P – ISBN 9789061730279.
Pourquoi moi et Ma Fille?
Live at the Holy Grotto in Lourdes for your prayer Intentions.
This page is also available in
Nederlands.